Windshield wiper blades are one of the most underrated, yet most needed parts of the car. When they go bad it creates a driving impairment hazard for you and other cars on the road. While easy to ignore, new windshield wiper blades are the simplest way to improve your driving and safety while on the road. You might be asking yourself "How often should I change my wiper blades?" "Are there better wipers for the winter than the summer?" and here at Mr. Muffler, we have the answers!
Why Should I Change My Wiper Blades?
Other than the annoyance of having streaks on your windshield you limit your visibility and ability to drive safely. Whether it's a freak downpour or a heavy snowstorm being able to navigate and arrive safely is directly related to how well you can see the road. When you have streaks and unclear views of the road you run a risk of a car accident. Having worn-out and old wipers will directly affect how well you can see the road.
Another reason to change your blades? Wear and tear on your windshield's glass. Old and worn-out wipers can cause damage to the glass on your windshield which is more expensive to replace than wiper blades.
Are There Seasonal Blades?
Yes, there are! Summer vs. Winter blades and structurally different and hold up differently. Winter wiper blades are sturdier and are built to avoid joints freezing. Summer blades, by comparison, are lighter and have less rubber for the blade itself. Since you are only dealing with rain they don't have to be as hardy as winter blades.
When Should I Change my Windshield Wipers
We here at Mr. Muffler recommend changing your windshield wipers every 6 months or every other oil change. We here at Mr. Muffler have stocks of winter and summer wipers available for purchase at your next oil change. Since we frequently run coupons and specials, your next pair doesn't have to be at full price. Check out coupons and deals pages to see what is on special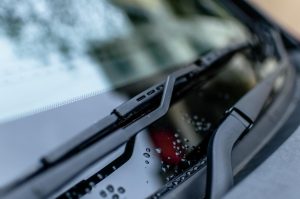 A car part that many people neglect to think about are wiper blades. While often underrated, wiper blades are a huge contributor to car safety. They are essential when it comes to visibility in bad weather as well as dust or mud buildup. Without adequate wipers, the windshield dirties quickly and visibility of the road while driving is diminished. Wiper blades are important to safety while driving and vehicle condition in several ways. 
Why Are Wiper Blades So Important?
Most importantly, windshield wiper blades allow the driver to see the road clearly. If the view of the driver's surroundings is inhibited, both the driver and everyone else on the road is in danger.  By using wiper blades, debris can be removed from the windshield to restore visibility and keep the roads safe.
Secondly, wiper blades also contribute to windshield longevity. Dirt, dust, leaves, rain, and snow can build up on a car's windshield over time. This buildup can lead to scratches and stains on the glass. Wipers clean and clear the windshield under unfortunate weather conditions which keeps it in the best condition for longer periods of time.
Get your wiper blades at Mr. Muffler!
Every car comes equipped with wiper blades due to their importance to safety. However, wipers can be damaged in harsh weather and can weaken with age. Regardless of the reason behind their replacement, Mr. Muffler has wiper blades for you! Wiper blades are an important part of any car and choosing the right pair for your vehicle is critical. Here at Mr. Muffler, we have a wide variety of windshield wiper blades for you to choose from. Check out our available coupons for the best deals on wiper blades, wheel alignments, oil changes, and more. Visit us in Westland or contact us for more information today!