The winter is officially here in Michigan. This causes many things for us; fear of driving in the snow and on ice, concern about the safety of our vehicles and much more. Luckily Mr-Muffler in Westland is here to help with it all! Check out our tips for driving in the winter weather and how we can help with your vehicle's safety with winter tune-ups.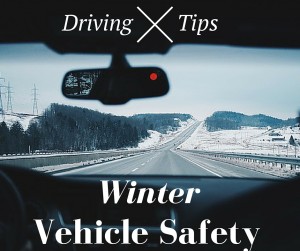 Winter Weather Driving Tips
Allow plenty of time to get to your destination. Check the weather regularly so you are not tempted to drive faster than you should, let your friends and family know your travel route and what time you plan to arrive.
Know what kind of bakes you have and what they will do. Do you need your brakes checked or brake replacement? See Mr-Muffler for a test drive and brake check. If you have anti-lock brakes, stomp on them with firm pressure constantly. If you have non-anti-lock brakes, pump the brake pedal.
Remember stopping distances are longer on ice.  Keep a safe distance between cars and salt trucks. Drive at a speed that matches the weather and road conditions even if it's under the speed limit.
If you lose traction of your vehicle, continue to steer in the direction you want to be heading.
If you get stuck in the snow, straighten the wheel and accelerate gradually. Sand and cat litter can help under the drive wheels to stop the tires from slipping and spinning in the snow.
Do not use cruise control in rain, snow or ice.
Winter Vehicle Tune-ups in Westland
Prepare and Maintain your car with a tune-up. Starting and idling in the winter is critical, with a  proper tune-up they will help your fuel economy and keep you on the road.  Here are more things to check your vehicle for in the winter:
Battery
Tire Tread
Windshield wipers
No Freeze fluid in the washer reservoir
Antifreeze
Mr Muffler will always put vehicles and their driver's safety first. That's why we hope that these winter driving tips and information about your vehicle's safety help. If you have any other questions about our auto repair services and safety please contact us. Check out our oil change, windshield wiper and other specials we offer monthly at our Westland Michigan Muffler and Brake Repair service station.
Summer is fast approaching and that means a lot of things, road trips, beach time, and cabins just to name a few. How is your car or truck doing though? Do you wonder if it's going to make it through the summer? Don't wait till your broken down on the side of the road, get your car inspected and tuned up from Mr. Muffler.
Why Should I get Tune-Ups Or Inspected?
When you have an older car or want to ensure your used car lasts longer. Regular check-ups and tune-ups are part of regular car maintenance. Also, getting your car checked out every oil change isn't enough to ensure your car's longevity. You may notice little things that are underperforming, be it your gas mileage, brake squeaks, or a loud noise coming from the engine. Don't leave these things to chance, or worse, damage your car. Get your car checked out or inspected at Mr. Muffler in Westland.
Here at Mr. Muffler, we have a 21 point inspection that will help keep your car running longer. When you come into Mr.Muffler we'll check your battery, car belts, fluids levels, filters, and breaks just to name a few. We make sure your car is running well and will be safe to drive on the road before you leave the shop. Make sure Mr. Muffler is part of your car's pre-summer maintenance before you have any trouble getting your car inspected and tuned up.
When you get your car tuned up at Mr. Muffler, we check all your car's regular wear and then some. We make sure that your spark plugs are working, check all your wires, and replace them if needed.
Finally, with the summer in full swing, you'll want to ensure that your car can handle any trips or vacations you have planned, come into Mr. Muffler in Westland today!
Winterizing Your Vehicle At Mr. Muffler
Winter is almost here in Michigan, and we here at Mr. Muffler, we want to make sure your car is ready for the upcoming cold season. The temperatures are dropping and driving conditions are changing, make sure your car can handle the upcoming winter season.
We highly recommend getting a thorough check of all critical systems on your vehicle. This will not only prepare you for the winter months ahead, but it will also give your car longevity through the harsh winter season.
Winter Tires and Tire Rotation for Winter Months
Have your tires checked over before the roads ice up? Some people like to use the change in season to rotate out their summer tires for sturdier winter tires. We here at Mr. Muffler will get you a new set of winter tires, or change out your current tires to your snow tires. We'll also do essential things like checking the tire pressure, rotate tires and balance if necessary.  Remember to check your tire pressure periodically, as it changes substantially with the temperature.  All of these things will pay off in the cold winter months.
Getting Your Oil Changed
It's a simple thing that we all have to do with our car, but keeping on top of your oil changes during the winter months is especially important. This will help car performance in the long run. For your convenience, Mr. Muffler in Westland has frequent specials on oil changes, so be sure to check them out.
Get your battery checked
In the winter months the cold will affect the conductivity of your battery, so head this problem off at the pass. We can check your battery and help you replace it if necessary.
Brake inspections and Brake Fluid
Having good and dependable working brakes are essential to have, especially during the winter months.  We will inspect your brakes and advise if you need brake system repair and/or replacement. From pads to rotors to calipers and brake lines. We use only quality Monroe Prosolution Brake Pads and Wagner Brake Pads so you'll be set for the ice and snow. 
We want to make sure you're treated like a part of the family at Mr. Muffler in Westland just a couple of miles from Canton down Cherry Hill road or up Wayne road to Livonia. We pride ourselves on friendly customer service and top-notch work on your car. Finally, call today for our current specials and a quote for your next tune-up!