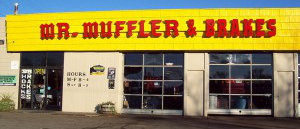 Mr. Muffler's full-service shop can help maintain your vehicle for years to come. From oil changes to brakes, we can handle it all.  Michigan roads can be tough on all our vehicles. Tires and struts can be damaged by huge Michigan potholes. If your vehicle is in need of new tires, then visit Mr. Muffler today!
We sell brand new tires at great prices. In addition, we can rotate and mount your tires to have you back on the road in no time.  With spring and summer right around the corner, now is a good time to get a radiator flush. Make sure your radiator is running its best when the hot temperatures set in.
Brake Repair
Does your car or truck seem much louder than it uses to? Are you seeing something hanging from under your vehicle? It may be time for a new muffler. When searching for the best place for brake and muffler repair in Westland, the clear choice is Mr. Muffler!
Muffler repair can help your car or truck run smoother and quieter. With a damaged muffler, your vehicle can make extreme noises and may result in a ticket, having a properly mounted and functioning muffler limits the noise that comes from your engine. In addition, if you are starting to hear squeaks from your tires have your brakes inspected as well.
Full-Service Repairs
We hope you enjoy our new more user-friendly site! At Mr-Muffler, we take pride in providing local residents with a high-quality full-service auto repair shop where they can feel comfortable taking their vehicle for repairs. Our services include:
10 Minute Oil Change
Brake Services
A/C Services
Muffler Services
Custom Bend Exhaust services
Shocks and Struts
Electrical Work
Give us a call today at 734-721-2800 or drop right in at 125 S. Wayne Rd., Westland, Michigan. Right on the corner of Cherry Hill and Wayne Road. Finally, visit us today and see what Mr. Muffler can do for you!
Springtime is coming! Make sure that you incorporate getting your oil changed into your spring cleaning routine. Oil is the blood of your car. Also, it is important to keep clean oil in your car. Recently, we had a child come in with their parent to get an oil change.
During the short wait, the child asked one of our staff members what would happen if you never changed the oil in your car. Many people know that you have to get regular oil changes to keep your car healthy, but few know why or what oil changes do.
Here is why you need a new oil change
Oil is necessary to lubricant your engine. Without clean oil, it will stop lubricating your engine and it will eventually fail. If the oil isn't changed, additives like detergent and rust fighters will wear out and the engine will stop being lubricated. Dirt will also begin to accumulate in the oil making it thick which would cause more wear and tear on the engine.
In addition to your oil. we have great deals on new tires! Winter roads in Michigan can be tough on tires. Buy a brand new set with alignment at Mr. Muffler.  Finally, Mr. Muffler in Westland, a full-service auto repair shop, is here to service all of your needs. Contact us now.
Happy New Year from Mr. Muffler! A winter emergency kit can really prepare you for the coming year.  We have many things planned for 2021 and we are honored to be able to share another year with you. As the year begins, we would like to remind you to be safe on the road. With temperatures in the Detroit area dropping below zero, you should have a plan in place for an emergency on the road.
Build your own Mr. Muffler winter emergency kit at home by acquiring these items:
Gloves, socks, hats, sleeping bags, and blankets
Shovel
Water
Flares and reflectors for emergencies
Extra cell phone battery or charger adapter
Snack food that doesn't expire (candy or energy bars)
Flashlight with extra batteries, lighter
First Aid Kit
Booster Cables
salt, sand, or cat litter
Daily Winter Car Emergency Tips
Stay in your vehicle! If you are in an unfamiliar area, you may become lost or put yourself in danger by wandering off.
Tell A Buddy! Always let someone know where you are going and how you will get there. Make sure your cell phone has plenty of charge or keep a charger in your vehicle at all times.
Keep Gas In Your Car!
Keeping at least half a tank of gas will keep it from freezing up. Of course, keeping it closer to full is more ideal.
It is advised that you keep over a half tank of gas in your car. The beginning of the year is a wonderful time to get your car service. Schedule your first start now!
Don't forget our January specials! Visit Mr. Muffler today for great deals on winterizing your car and even new sets of tires to help with slippery roads! Finally, call us at 734.721.2800 to drop by the corner of Cherry Hill and Wayne Road in Westland anytime!
With freezing temperatures in Metro Detroit, we understand how annoying it can be to remove ice from your car's
windshield. As tempting as it may be removing it using hot water is the worst thing that you could possibly do! Pouring hot water over your windshield can cause your windshield to crack because of thermal shock from temperature change. Also, replacing a cracked windshield can be costly.
Protect Your Windshield From Thermal Shock
Take your time and slowly heat up your car using the defrost setting. In addition, most cars these days have remote starts to make it easier for you.  If the temperature is very low, only turn the temperature knob halfway to avoid cracking. Another option of course is to go out and scrape your windows. Make sure to invest in a nice scraper that reaches those hard to reach areas.
Also, there is another option for those frozen windows, Prestone Windshield De-Icer. Averaging around $7.00 a can, the de-icer works just as described. Simply spray it on and wait a few seconds for the ice to melt just that easy. Now there are other things you should consider this winter. How are your tires?  Bald and improperly inflated tires can lead to slipping and sliding all over the road.  At Mr. Muffler we carry most major brands of tires, click here to order yours today.
When it comes to winter, make sure your vehicle is running smoothly and ready for the cold. Also, check fluids and filters to make sure everything is good. Have a happy winter and take care of your car in winter. Finally, make sure to visit Mr. Muffler this winter to prepare your vehicle for the cold weather.  Give us a call today at 734-721-2800 or visit us at 125 S. Wayne Rd.
The worst time for a car to become overheated is in the winter cold in Michigan. In addition, even in the dead of winter, your car can possibly overheat.  Here is a list of four things that you need to when your car overheats in Wayne, Garden City, or Livonia. 
Car Overheating – 4 things to do in the Winter
1) Stop the car
Once you notice that your temperature gauge is abnormally high, then you should pull over when it is safe to do so.  Next, you should turn the car off to give the engine time to cool down.
2) Release the heat 
Carefully open your hood so that the heat can be released. If steam is coming from the radiator cap, be extra careful because it could burn you. Allow your car to cool.
* Do not open the radiator pressure cap if your engine is still hot. *
3) Check your coolant reservoir
If your car is low on coolant, then add coolant to your reservoir until it is to the full line.
4) Call for help.
It is better to be safe than sorry. Driving while your car is still overheated can cause more damage.
Car overheating can be an annoying issue even during the winter months. By following the four steps we laid out here it can help deal with this issue. Of course, Mr. Muffler of Westland can provide you with services to help maintain your vehicle all winter long.
If your car is just low on coolant, then it may safe to drive. To be on the safe side, take your car to Mr. Muffler to get your cooling system pressure-tested or for other full service auto repair services. Pressure-testing your cooling system can help diagnose possible leaks or other problems with your cooling system. Contact Mr. Muffler today to get your overheated vehicle in Wayne County serviced.