Although we aren't quite there yet, summer is coming soon. The last thing you would want to do is get stuck driving without air. Air conditioning provided cool air that is. If you turn on your car's air conditioner and it seems to be blowing out warm air or only slightly cool, it may be time for an AC recharge. Because the summer heat hasn't arrived it is the best time to save big on AC recharge at Mr. Muffler.
What is an AC Recharge?
When you bring your car or truck to Mr. Muffler in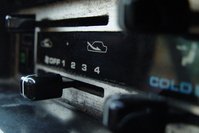 Westland, Michigan for an AC recharge you can be sure your car will keep you cool come summer time. An AC recharge consists of checking the pressure of your air system, ensuring all fluids are full and find any leaks using a special Dye leak detector. The refrigerant that creates cool air within your car's air conditioning system does not just evaporate. So, if your fluids are low or you feel as if your air should be cooler, it is highly likely that you have a leak somewhere. Our professional auto repair technicians will find the source of the leak and inform you of any necessary repairs.
Because Mr. Muffler is a full-service repair shop in Michigan, we can service all necessary repairs in and around our Westland location.
When do I need an AC Recharge?
There is no set schedule for getting an AC recharge. Typically, car owners can feel that their air is not properly working. This signals them to come in and schedule necessary services to repair the air conditioner in their vehicle. We do recommend, to test your air every once in a while even in the cooler seasons, as you can save a ton of money if repairs are needed.
Be sure to ask us about our April and May AC recharge specials when you contact us today!
Getting your air conditioning checked before summer is always a good idea. Now is the time, we are finally seeing the warm weather break here in Michigan. We want to let our customers know it is better to check and treat your vehicle's air conditioning system to prevent further major repairs.
Your vehicle's AC system may need a recharge. When it comes to air conditioning repairs, Mr. Muffler offers the best deals around. From leak repairs to full system replacements we can handle any A/C problem you may have.
A/C problems and repairs Get Your Air Conditioning Checked
Drivers need to make sure your refrigerant is not low. If it is, this could be due to a leak. If your air conditioning system operates on low refrigerant it will, in time, damage the compressor.
Check for preventive care.  Filling the refrigerant and fixing a leak is going to cost much less than if the air conditioning compressor gets damaged and needs to be repaired or replaced.
If there is a noticeable noise and less cold air coming from your air conditioner when your car is running it could be faulty fan or the blower of your air conditioning system.
If a stale smell is coming from your vehicle's air conditioning system this could be telling you something is wrong. Components that contribute to air conditioning system failure are; clogged evaporator, compressor, expansion valve, and condenser.
At MR-MUFFLER We Handle All the Repairs
We know that to some people air conditioning is not first on their list, but keep in mind the main advantages of a vehicle's air conditioning system is preventing driver fatigue. Drive Safe!
We Service the Westland MI, Wayne, Garden City, Canton, Plymouth, and surrounding areas.
Finally, call Us 24/7 at 734-721-2800 or contact us anytime for A/C Repairs and many other car repair services.