Lucas Oil Products Now At Mr. Muffler!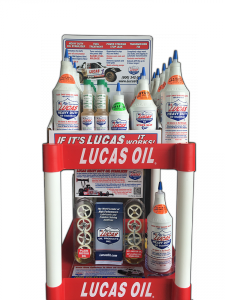 If you need a pick me up for your car or truck, we have just the products for you! We are carrying a new brand that will get you up and going with a high-performance enhancement. We are talking about Lucas Oil Products, a company that has made a huge mark on the oil and oil products market since its inception in 1989. In addition, we found a few products that we think you will like and are currently on special.
If your transmission has seen better days, or you want to extend the life of your current transmission, we highly recommend Lucas Transmission Fix. This non-solvent formula helps reduce the slip, rough shifting, and delay you can get with an old transmission.
-Power Steering stop leak
This product is 100% guaranteed to stop seal leaks in your power steering. Will also correct any issues you may have been having with rack and pinion problems.  
-Fuel Treatment – Upper Cylinder Lube-
This formula is made for diesel and gasoline engines alike and contains zero solvents. Also, this treatment is made to make your engine run at peak performance with extremely slick oils and additives. Less stress on your engine, more power behind it! This product will clean and lubricate your injectors and carburetor which will help you burn fuel more efficiently, giving all the added benefits of a top-performing engine.
-Pure synthetic oil stabilizer
If you need a go-to oil stabilizer, this is the product for you. This guy can be used on any type of vehicle, regardless of size. In addition, this oil stabilizer will help reduce oil consumption, help make your oil last 50% longer, and help increase power and MPG.
-Heavy Duty Oil Stabilizer
This 100% Petroleum product is made for heavy-duty and high-performance vehicles that get the worst wear and tear from the road. Furthermore, it's been shown to help increase oil life by 50%, helps reduce dry starts, helps reduce operating temperatures, and can easily blend with other automotive lubricants. Finally, stop by today for all your automotive needs!
Posted In: Car Care, Oil Change, Oil Leak
Tags: Heavy Duty Oil Stabilizer, increase car performance, Lucas Oil products