Unfortunately living in metro Detroit everyday driving takes a toll on our vehicles. Front end damage is a very common and scary problem for Michigan drivers. Potholes, construction, or collision are all common reasons front end damage occurs in cars or trucks. Driving around in a vehicle with a shaky front end can be dangerous and scary!
Common Repairs For Front End Damage
Tire Rotation is recommended every 5,000-8,000 miles. This helps extend the life of your tires and balance out wear and tear differences.
Wheel Alignments are needed if you notice that your car or truck starts to pull to one side. Be sure to have your alignment checked at least once a year to ensure your tires are not getting unnecessary wear and tear.
Ball Joints or bushings in the control arm may be going bad if you start feeling front end vibrations or hear clunking noises. Pulling to one side or the other may also be an indication that control arm repair is necessary.
Tie Rod repair or replacement or repair may be necessary if you begin to hear a squeaky noise as you turn, or your vehicle alignment seems off.
If something just "doesn't seem right" with your vehicle, whether it is; pulling, shaking, or rattling, it is important to have your car or truck checked out. Driving with front end damage can be very dangerous as your steering  is affected and avoiding more damage is very important. Having any of the above damages to your vehicle results in unsafe driving conditions, especially in Michigan's crazy weather and construction.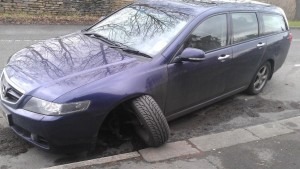 Get a Free Front-End Inspection!
Let Mr. Muffler help you will all your alignment repair needs. When roads start to get slippery it is important to have full control of your vehicle! Our professional mechanics will inspect your vehicle for free. Then we will give you a clear and honest appraisal of damage and a fair estimate on any necessary repairs.
Posted In: Auto Repair, Shocks, Struts
Tags: car front-end inspection, front end alignment, front end repair, replacing ball joints