The winter is officially here in Michigan. This causes many things for us; fear of driving in the snow and on ice, concern about the safety of our vehicles and much more. Luckily Mr-Muffler in Westland is here to help with it all! Check out our tips for driving in the winter weather and how we can help with your vehicle's safety with winter tune-ups.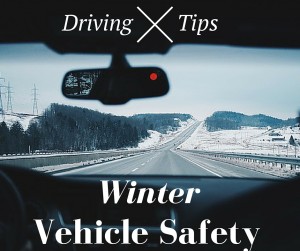 Winter Weather Driving Tips
Allow plenty of time to get to your destination. Check the weather regularly so you are not tempted to drive faster than you should, let your friends and family know your travel route and what time you plan to arrive.
Know what kind of bakes you have and what they will do. Do you need your brakes checked or brake replacement? See Mr-Muffler for a test drive and brake check. If you have anti-lock brakes, stomp on them with firm pressure constantly. If you have non-anti-lock brakes, pump the brake pedal.
Remember stopping distances are longer on ice.  Keep a safe distance between cars and salt trucks. Drive at a speed that matches the weather and road conditions even if it's under the speed limit.
If you lose traction of your vehicle, continue to steer in the direction you want to be heading.
If you get stuck in the snow, straighten the wheel and accelerate gradually. Sand and cat litter can help under the drive wheels to stop the tires from slipping and spinning in the snow.
Do not use cruise control in rain, snow or ice.
Winter Vehicle Tune-ups in Westland
Prepare and Maintain your car with a tune-up. Starting and idling in the winter is critical, with a  proper tune-up they will help your fuel economy and keep you on the road.  Here are more things to check your vehicle for in the winter:
Battery
Tire Tread
Windshield wipers
No Freeze fluid in the washer reservoir
Antifreeze
Mr Muffler will always put vehicles and their driver's safety first. That's why we hope that these winter driving tips and information about your vehicle's safety help. If you have any other questions about our auto repair services and safety please contact us. Check out our oil change, windshield wiper and other specials we offer monthly at our Westland Michigan Muffler and Brake Repair service station.
Posted In: Brakes, Tune Up, Winter
Tags: brake inspection, driving tips, vehicle safety, winter driving