Living in Michigan we are all familiar with the nasty potholes that come along with Michigan's winters. As the temperatures fluctuate throughout the year, the ground contracts and expand, add in the salt with the roads and potholes are inevitable. Some potholes may just create a bumpy ride, whereas others can leave you on the side of the road waiting for a tow truck during your 5 AM commute to work. Just a flat tire? You may think so, but depending on how your car or truck hits the pothole, or how deep the pothole may have been, you may have some front end damage as a result of your run-in with Michigan's worst enemy… the pothole.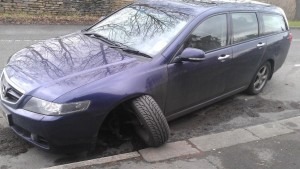 Common front end damage caused by potholes in Michigan are:
Messing up wheel balance
Front end alignment disturbances
Shock absorber damage
Mr. Muffler's full-service auto repair provides these and other auto repair services in Michigan.
Pothole Damage
Did you recently hit a pothole, had your tire replaced, yet still have a strange noise or a rattle coming from your front end? Does your car or truck seem to pull to one side? If you answered yes to either of these questions you may have front end damage other than just a blown tire and need repair. Having front end damage and not addressing it can cause wear and tear on other parts of your car or truck.  It can also lead to pre-mature balding of not only your old tires but also the one you just replaced.
If you have recently hit a pothole, stop by Mr. Muffler in Westland, MI for an honest inspection of your front end. When it comes to potholes, we are experts at ensuring that your car didn't experience damage other than that of a blown tire.
For more information on damages that can occur after hitting a pothole contact us today. Or, stop in today and have our car care professionals of Michigan get you back on the road as you were before you hit that nasty pothole.
Posted In: Auto Repair, Car Care, Car Maintenance, Full Service Auto Repair, Shocks, Struts, Winter
Tags: brakes, Damage Repair, pothole, struts