Buying a used car can be intimidating. Whether you are buying a used car for yourself or your child, sometimes you never know what you are going to get. Was the car in an accident? Has the seller temporarily covered up a problem? Does the price seem to good to be true? Some of these questions will never be answered unless you get a used car inspection prior to purchasing the vehicle.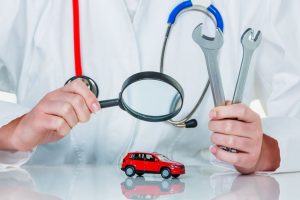 Take Your Test Drive… To Mr. Muffler!
Hopefully, you wouldn't even consider purchasing a used car or truck without test driving it first. We recommend you test drive your car to Mr. Muffler. We will provide you an on the spot vehicle inspection, letting you know of any work that needs to be done now, or should be done in the near future. Often times we can inform you if there is damage caused by an accident that has been covered up. Or, if something appears to be temporarily fixed just to sell the vehicle. With our information, you can decide whether or not you feel the vehicle is worth purchasing. Yes, that "too good to be true" price, may really be too good to be true!
Looking To Sell? Sell Honestly!
If you are looking to sell a used car or truck in southeast Michigan, we can help! Not sure what price tag to put on your car?  During a used car inspection, we can go over repairs that your vehicle needs. This will allow you to either repair them and put a higher price on your car or truck. Or, give you information to disclose any repairs needed to your potential buyers. Some common repairs that will help increase the price tag for your used car or truck are:
Mr. Muffler in Westland is near Canton and has easy access from Cherry Hill Road. It's also only a couple of miles from Livonia, driving south down Wayne Road. Make us a stop on your test drive and you won't regret it. For more information, or if you'd like to make an appointment for your vehicle inspection, contact us today!
Posted In: Car Maintenance, Full Service Auto Repair
Tags: test drive inspections, used car inspections, used car maintenance when selling, used truck inspections, vehicle inspection, vehicle inspection on used cars